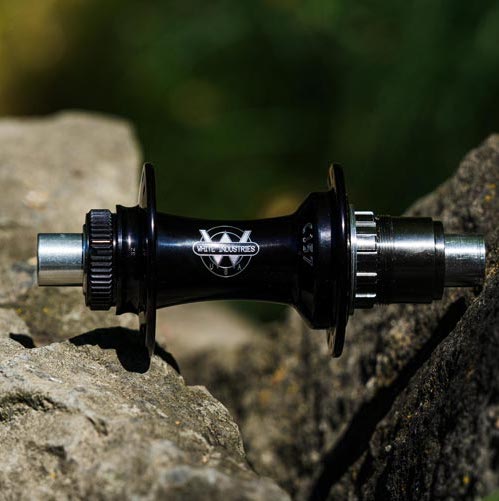 XLR8 Performance Bicycle Wheels
White Industries C157 SuperBoost Rear Centerlock Disc Hub
White Industries C157 SuperBoost Rear Centerlock Disc Hub
The C157 hub is a "Super Boost" 12mmx157mm version of the CLD disc hub. The Super Boost spacing allows for even wider hub flange spacing which results in better spoke bracing angles for very heavy duty applications (on frames specifically designed for it).

White Industries hubs are recommended for our premium wheelbuilds - light, beautifully made, super reliable, low friction and simple to service and maintain. Simply the best.
Exquisitely machined hubshell made from US aerospace 6061-T6 aluminium
6/4 aerospace titanium freehub body
Enduro USA made sealed bearings – ABEC5 grade
Centerlock rotor required (not included – requires internally splined lockring such as Shimano SM-RT81)
We only stock these in Black (and by buying here you will be supplied Black), but if you want Polished Silver please send us an email, and we can make that happen!

We can supply rims and build wheels with these hubs for you. Just get in touch.

Hubs options listed as "special order" or "Sold Out" will be ordered immediately upon your purchase and supplied ASAP. Get in touch if you have Qs.
Recommended usage: Centerlock disc rear wheels where a Super Boost 157mm hub with is required.
Additional information:
Supplier: White Industries (Petaluma, California)

Usage type: Centerlock disc rear wheels for Super Boost 157mm spaced frames.

Available colours: Black, Polished Silver (send us an email)
Axle type: 12x157mm thru axle

Spoke type required: J bend

Weight: ~305g


---
More from this collection